Ampoules are true multi-talents when it comes to beauty. They come in small glass vials that contain high concentrations of effective active ingredients for different skin types and needs. They nourish and moisturize the skin, deliver anti-aging benefits and make you look fresh and radiant after a stressful day. DALTON offers a variety of facial ampoules for a whole range of different skin needs.
ANTI-AGING

Ampoules with Celumer Marine Extract
The ampoules by DALTON MARINE COSMETICS guarantee an immediate, visible effect. They are perfect as a quick beauty boost for a special occasion or as part of an individual beauty treatment over the course of several days. Our DALTON anti-aging ampoules elevate skincare to the highest possible standard.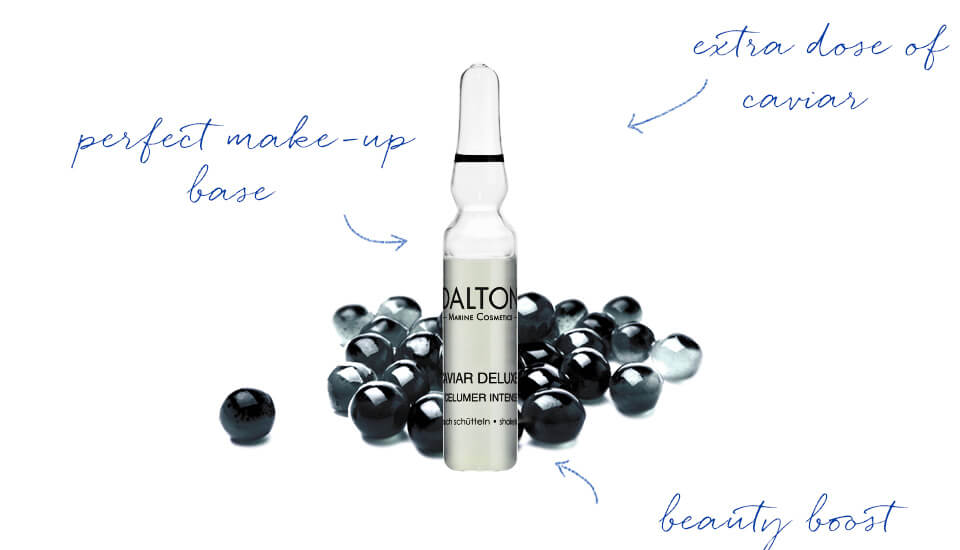 CAVIAR DELUXE Ampoule
Celumer Intense
The CAVIAR DELUXE Ampoule contains a particularly high concentration of our Celumer Marine Extract as well as an extra dose of caviar for beautiful, smooth skin and anti-aging in perfection. The ampoule improves skin cell renewal, stimulates the production of collagen and hyaluronic acid and reinforces the skin's natural defence. It reveals a soft, even and glowing complexion – perfect before a wedding or any other special occasion.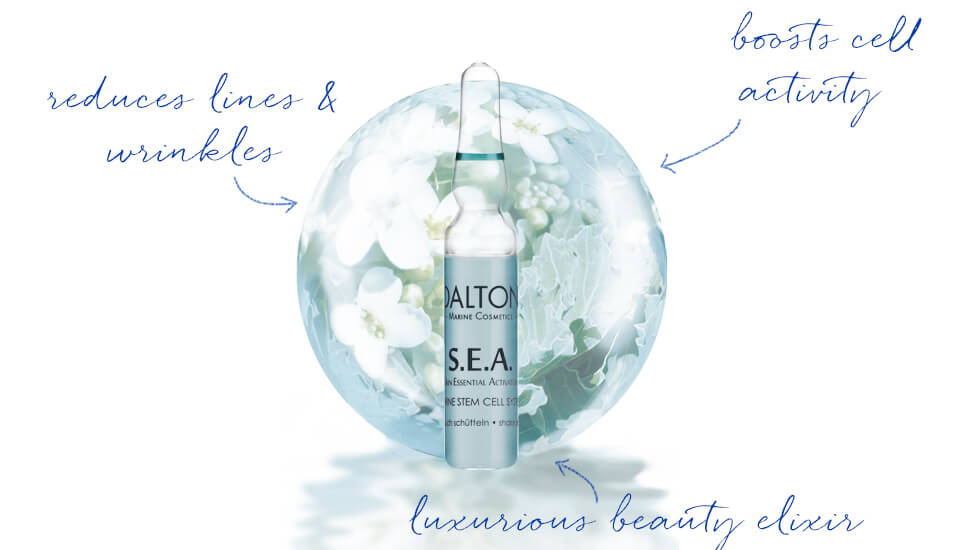 S.E.A. Ampoule
Marine Stem Cell System
The SEA Ampoule is formulated with our Celumer Marine Extract and Crambe maritima to protect the skin's stem cells, promote firm facial contours and fight skin aging in the deepest layer of the epidermis. It reduces lines and wrinkles, stimulates cell renewal and provides mature skin with rich and nourishing care. For fresh new skin cells.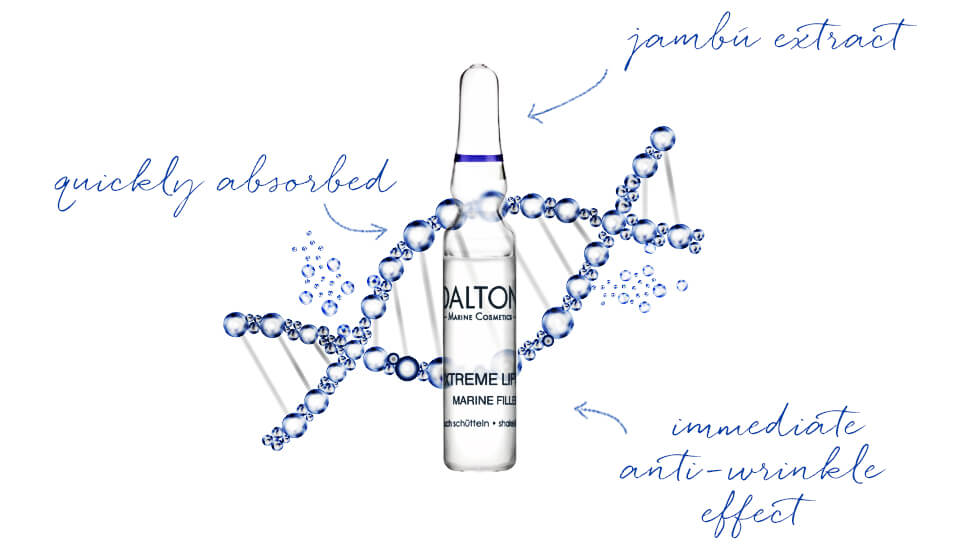 EXTREME LIFT Ampoule
Marine Filler
Our EXTREME LIFT anti-wrinkle ampoule is quickly absorbed and supplies the skin with potent active ingredients. The ampoule reduces the depth of expression lines and wrinkles thanks to the Celumer Marine Extract and jambú extract, an herbal extract that relaxes the mimic muscles. It offers a perfect solution for achieving a natural lifting effect. The skin appears smoother and firmer for up to 24 hours.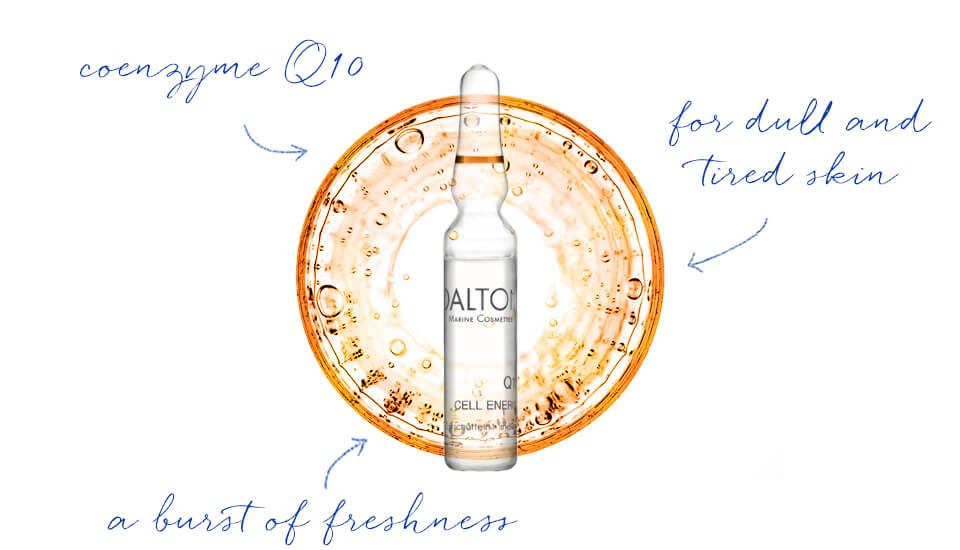 Q10 Ampoule
Cell Energy
Dull and tired skin is immediately revitalized, resulting in a radiant complexion. The refreshing Q10 Cell Energy Ampoule combines the vitalizing Celumer Marine Extract with the energizing coenzyme Q10, to boost cell energy and replenish the skin's natural Q10 levels. For rejuvenated, fresh and radiant skin.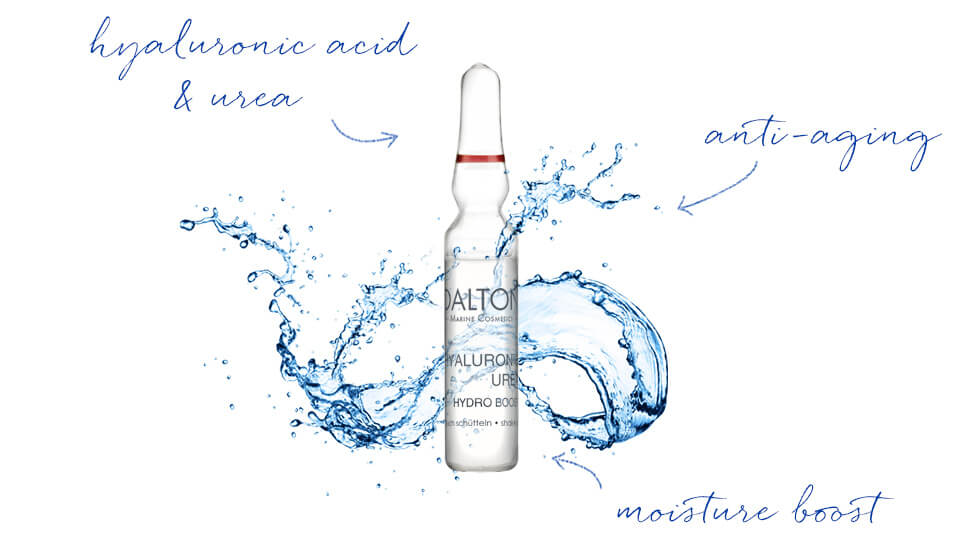 HYALURONIC UREA Ampoule
Hydro Boost
The HYALURONIC UREA Ampoule is formulated with our Celumer Marine Extract, short-chained and long-chained hyaluronic acid and urea, to rehydrate the skin and immediately reduce dry wrinkles. The moisturizing ampoule with anti-aging benefits is quickly absorbed and very well tolerated.
PIPETTE CONCENTRATE

Concentrates for local or overall facial application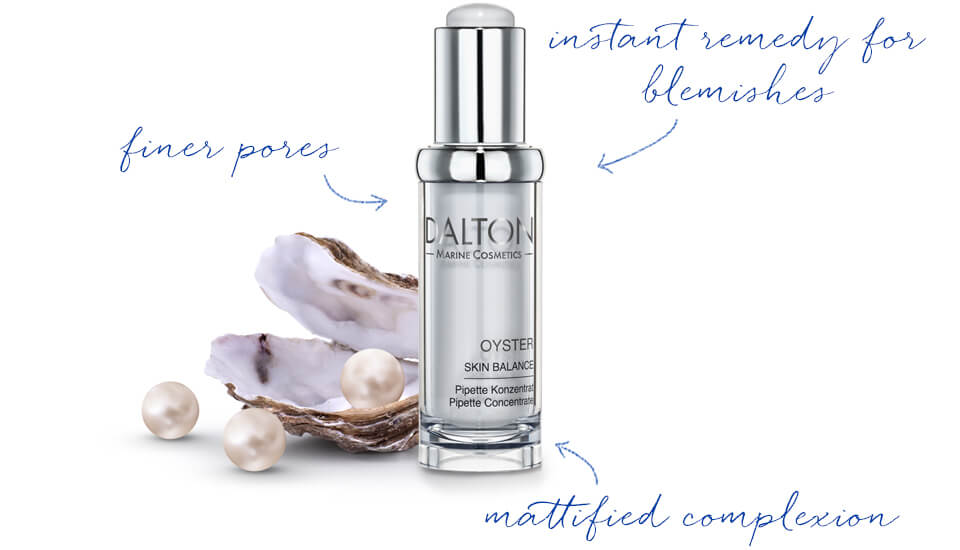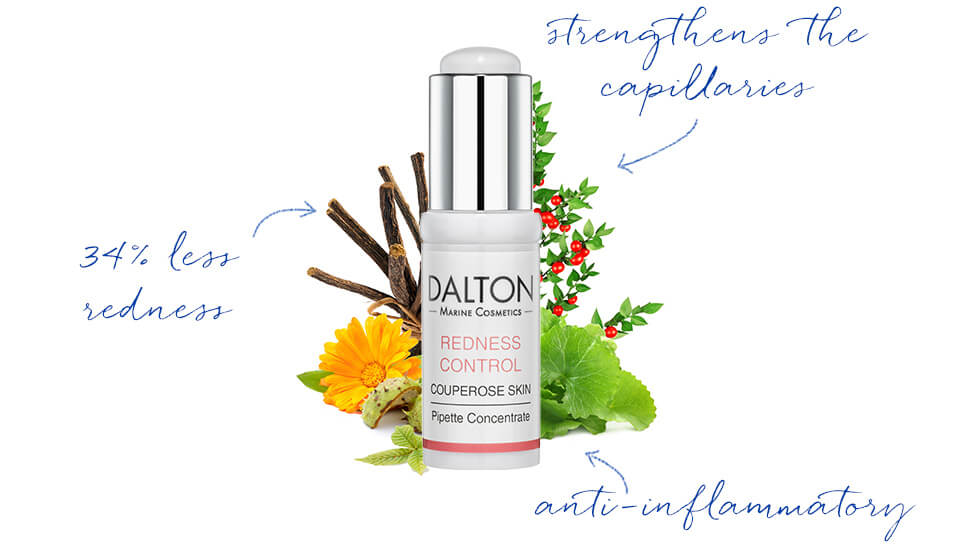 REDNESS CONTROL Pipette Concentrate
Couperose Skin
The oil-free Pipette Concentrate offers effective help for couperose skin. It is enriched with our 5-Herbs-Formula to soothe the skin and reduce redness. The pipette makes it easy to apply either locally or over larger areas of the face.
APPLICATION
How to Use Skincare Ampoules
How to apply glass ampoules:
Some people might find it difficult to open glass ampoules, but it's really easy when you use the right technique. Here is the step-by-step procedure of how to open glass ampoules: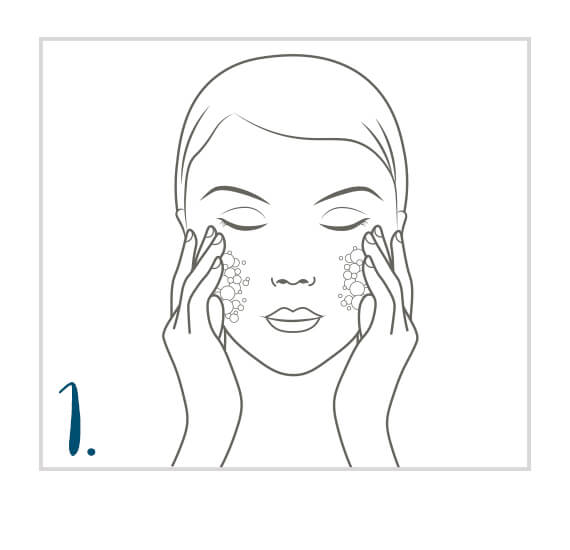 Cleanse face, neck and décolleté.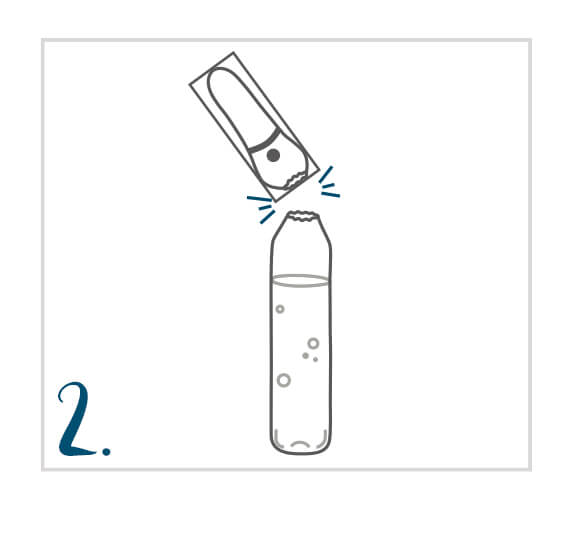 Shake the ampoule before use. Face the dot on the ampoule towards you, place the ampoule opener onto the top of the ampoule and bend it backwards.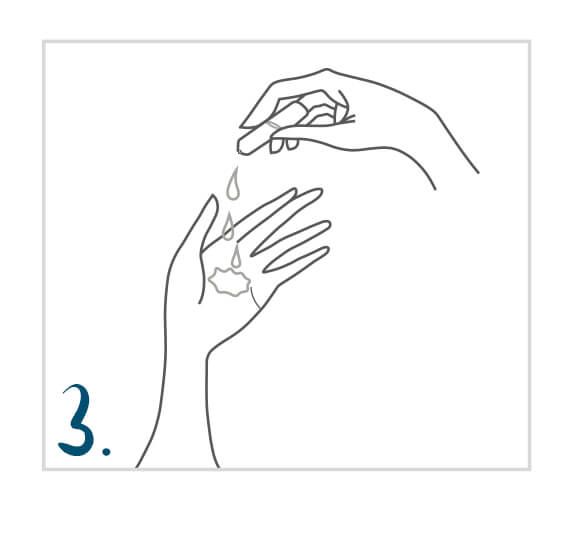 Apply the concentrate to the palms of your hands, then apply it on face, neck and décolleté and gently dab it in.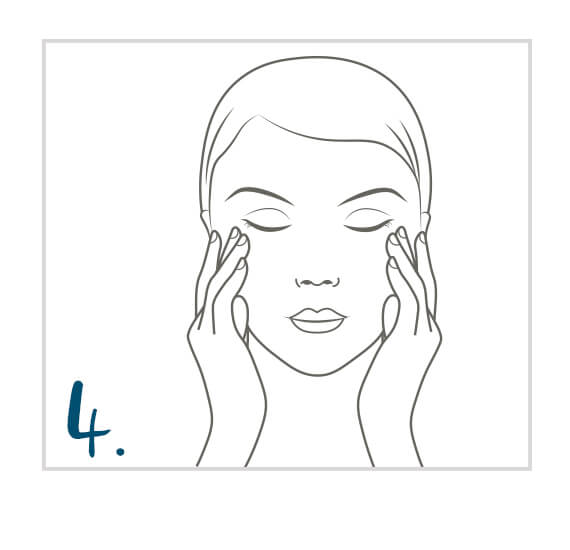 Finish with your skincare regimen.
AMPOULE REGIMENS
Powerful Beauty Boosters
Ampoule Facial Treatment Regimen
Small, yet incredibly powerful – highly concentrated facial ampoules have become an essential part of many women's skincare routines by now. No matter if you use them once a week or as an 8-day intensive treatment regimen, they reinforce and maximize the effect of all the products in your skincare routine. We have tested an ampoule regimen for you, and below are the results:
Ampoule treatments – Questions answered by the expert: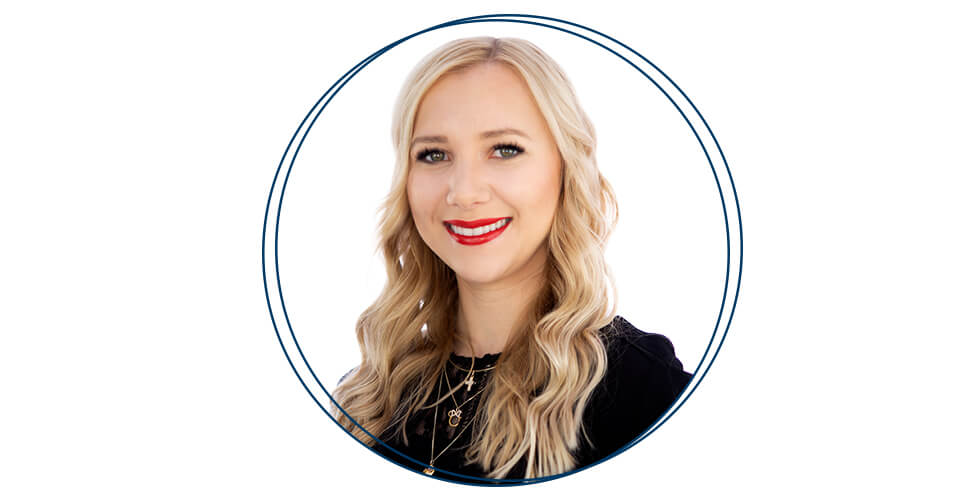 Jasmin Zentara
Trained beautician & part of the product development team
Why should I use ampoules?
How often should I do an ampoule treatment?
Should an ampoule be used up all at once or can I spread it over the day?
Am I allowed to use other skincare products during the treatment period?
AMPOULE TREATMENT
8-day Ampoule Treatment with Extreme Lift
Anti-wrinkle ampoule treatment regimen with the Extreme Lift Ampoule:
Our goal: firmer skin, defined facial contours and fewer wrinkles. A big challenge for our small ampoules, but the result is amazing: