SENSITIVE SKIN - HOW TO GET HEALTHY SKIN & A BETTER QUALITY OF LIFE
Sudden red blotches on the face, persistent itching and an unpleasant sensation of heat and burning – hypersensitive and easily irritated skin can be a huge disruption to everyday life. The only way to combat these woes is with potent yet extremely gentle skincare.
Genetic predisposition, stress, environmental stressors, hormonal changes and even the use of certain skincare products – there is a broad range of factors that can cause sensitive and reactive skin. But what exactly happens when you have a hypersensitive skin reaction? To answer this question, it is important to understand how our skin functions.
The reason for these often unpredictable skin reactions is a damaged skin barrier, which leaves the skin unable to defend against environmental aggressors. The skin's immune system is compromised and sensitive skin is much more likely to develop reactions to external and internal influences. To treat acute skin problems not just temporarily, it is crucial to restore and strengthen hypersensitive skin by using balancing and soothing skincare products – an essential foundation for healthy skin.
"Less is more"– is especially true when it comes to skincare for sensitive skin. The right blend of ingredients is absolutely crucial. Products for sensitive skin should not contain any colorants, fragrances, emulsifiers, silicones or conventional preservatives. The aim is to repair the skin both from the outside and from the inside and at the same time to quickly relieve symptoms such as itching and red blotches on the face.
VERY SENSITIVE SKIN

Causes, Symptoms & Common Questions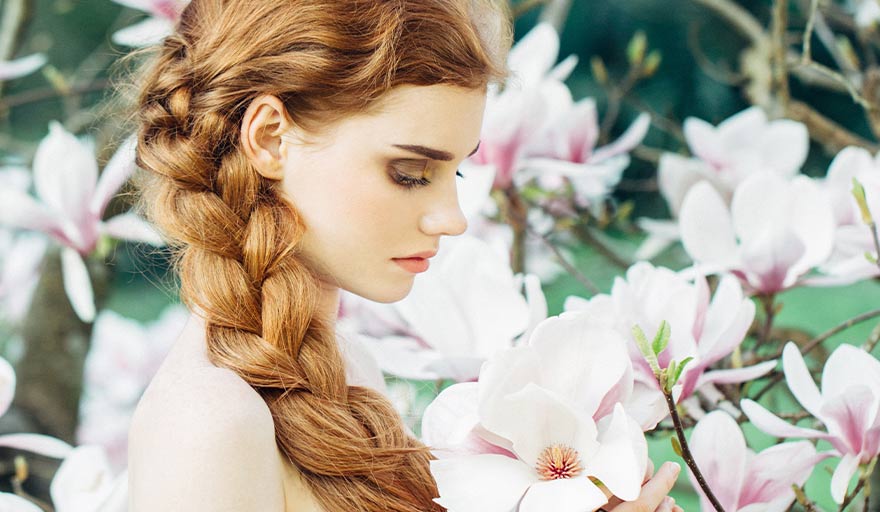 SENSITIVE SKIN – CAUSES & CONTRIBUTING FACTORS

Genetic predisposition
Psychological stress
Wrong skincare
Hormonal changes
Environmental pollution
SYMPTOMS OF HYPERSENSITIVE SKIN
Red blotches on the face
Skin feels tight
Sensation of heat and burning
Persistent itching
Skin prone to allergies
SENSITIVE SKIN – CAUSES & CONTRIBUTING FACTORS

Genetic predisposition
Psychological stress
Wrong skincare
Hormonal changes
Environmental pollution
SYMPTOMS OF HYPERSENSITIVE SKIN
Red blotches on the face
Skin feels tight
Sensation of heat and burning
Persistent itching
Skin prone to allergies
What types of cleansers are suitable for sensitive skin?
The recommended daily routine for sensitive skin starts with a gentle cleanser to remove any dirt, excess sebum or make-up. An alcohol-free tonic specifically for sensitive skin restores the skin's pH, moisturizes the skin and helps to relieve irritation.
Our tip: Use an Enzyme Peeling 1-2 times a week. The enzymes break down the lipids and proteins attached to dead skin to gently exfoliate dead cells and excess sebum, leaving a smooth and clear complexion. The fine powder does not contain any grains or abrasives that could irritate the skin.  
Can you have both sensitive skin and combination skin?
Yes, that is definitely possible. Hypersensitive skin can be very dry, or it can also be prone to combination skin. What may seem confusing at first is actually quite simple. If your skin is oily in the T-zone, you should stick to products with a light texture. They absorb quickly without leaving your face feeling greasy. If your skin is very dry and rough, on the other hand, you need rich and lipid-replenishing textures to protect the skin day and night. Pollen or dust mite allergies often cause irritation to the sensitive, thin skin around the eyes. Be sure to apply a soothing eye cream to help relieve itching and replenish stressed skin.
How can I prevent skin irritation?
Dealing with sensitive skin is a major challenge, because sensitive skin can react to so many different triggers. If your skin is prone to irritation, it is important to consider all potential causes and you might have to adopt a more careful lifestyle. Do you have a food intolerance? Are you on any medication? Chemotherapy can affect the skin as well and weaken its immune system. But even the most simple things, like for example long hot showers and baths, can dry the skin and lead to irritation.
"Without emulsifiers, without silicones, without …" – how does that work?
Generally, those ingredients and certain natural preservatives are not harmful to healthy skin. Hypersensitive skin, however, cannot tolerate most conventional skincare products. When that is the case, it is very important to avoid potentially irritating substances. The solution lies in using an innovative texture based on the Skin Membrane Structure – a formulation that mimics the physiological properties of human skin. It is very well tolerated, because the body does not recognize it as foreign. Essential skin components like lecithin, ceramides and squalane support skin regeneration and strengthen the damaged skin barrier.
What are the dos and don'ts for sensitive skin?
Exposure to dangerous UV radiation and dry air from heating or air conditioning are absolute no-nos if you have sensitive skin. Too much washing can irritate the skin as well, and you should look for products that are fragrance-free when buying cosmetics. Diet plays a big role, too. It is best to avoid spicy foods and stimulating beverages like coffee and black tea altogether.
What are the best ingredients for hypersensitive skin?
Taking care of sensitive skin that is out of balance requires calming, soothing and very gentle ingredients. That is the foundation of our all-natural Skin Repair Formula: Blackcurrant relieves inflammation and protects against oxidative stress. Balloon vine soothes irritation and restores balance to troubled skin. Sunflower extracts reinforce the skin's natural barrier.
THE RIGHT SKINCARE

Products Designed for Sensitive Skin
SOLUTION FOR SENSITIVE AND ALLERGY-PRONE SKIN
Sensitive skin needs gentle care that helps to relieve acute symptoms and restore the skin's immune system.
The SENSITIVE CARE line is specially designed for sensitive and easily irritated skin, aiming to strengthen the skin's protective barrier and boost its natural immune system. This cosmeceutical skincare line consists of three creams – ranging from light to rich – and a soothing eye cream to suit every skin type and need. The products are extremely gentle and free of fragrances, colorants and conventional preservatives. The result after just two weeks of use: 37% reduction of skin discomfort and 42% improvement to overall quality of life.
Find more details about our SENSITIVE CARE line, key ingredients and relevant test results here: skincare for very sensitive and allergy-prone skin..
TIPs & TRICKS
How to Care for Sensitive Skin
OTHER SKIN TYPES
The Right Solution for Every Skin Type
SENSITIVE CARE
Product Overview