SENSITIVE CARE – INNOVATIVE FACE CARE FOR SENSITIVE SKIN
Our SENSITIVE CARE collection for sensitive skin restores the skin's natural immune system and protective barrier function. The products are proven to reduce common symptoms of very sensitive skin, like itching, redness, burning and skin feeling uncomfortably tight.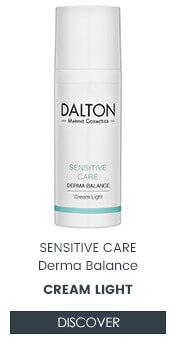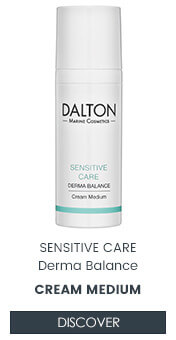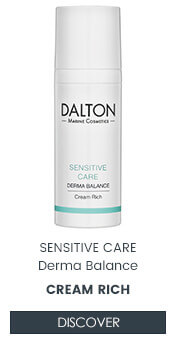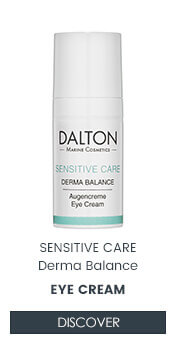 SKIN REPAIR FORMULA

Excellent Skincare Benefits for Sensitive Skin
NATURAL INGREDIENTS AND AN INNOVATIVE HIGHTECH TEXTURE - THE SOLUTION TO VERY SENSITIVE AND ALLERGY-PRONE SKIN
Sensitized skin cannot tolerate most conventional skincare products and often reacts to emulsifiers, perfume oils, colorants and traditional preservatives. When that is the case, it is important to stabilize the skin and to avoid potentially irritating substances. The skin's protective barrier function must be restored, so that it is protected from external influences and can return to a calm and balanced state.
Aiming to provide products for sensitive skin that are safe and gentle, yet very effective, the SENSITIVE CARE line combines marine minerals with the powerful Skin Repair Formula consisting of three potent plant extracts. Blackcurrant relieves inflammation and protects against oxidative stress. Balloon vine restores balance to troubled skin and soothes irritation. Exquisite sunflower extracts reinforce the skin's natural barrier.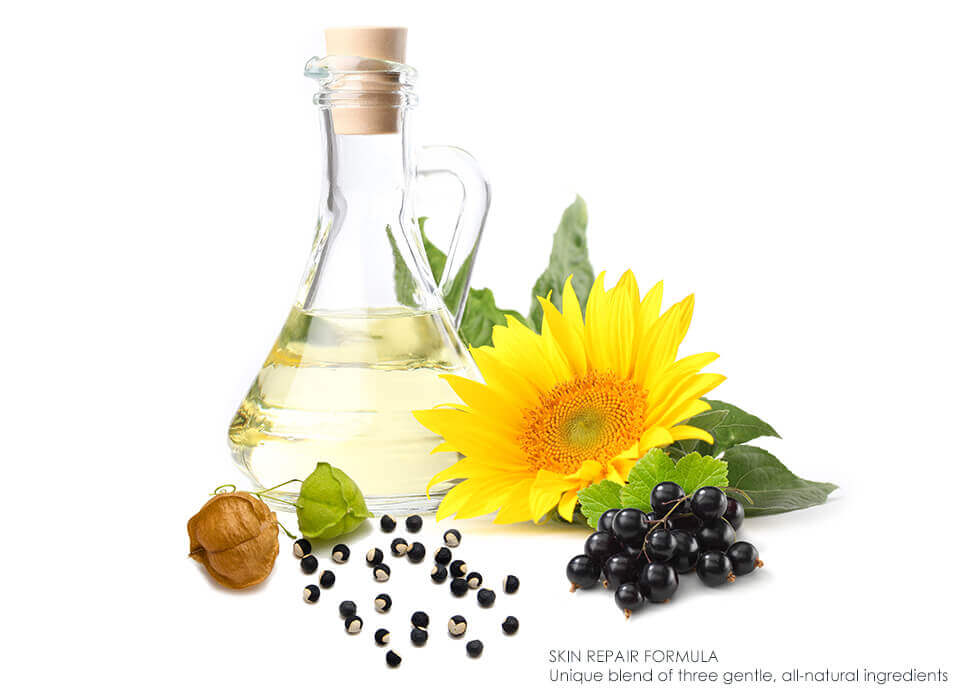 However, to make sure that these ingredients can reach their beneficial effect, all of our SENSITIVE CARE products are formulated free of potential irritants like emulsifiers, silicones, colorants, fragrances and conventional preservatives. Thanks to the latest scientific advances it is now possible to formulate skincare products with textures that mimic the physiological properties of skin. The secret lies in the application of the so-called Skin Membrane Structure, a formulation that combines essential skin components like lecithin, ceramides and squalane by means of high-tech homogenization, to mimic the lamellar structure of the skin. This innovative technology in combination with natural active ingredients keeps the skin protected and irritation-free.

37% REDUCTION OF SKIN DISCOMFORT AND 42% IMPROVEMENT TO OVERALL QUALITY OF LIFE
Test results prove that the Skin Repair Formula has a visible effect. After just 14 days of use, redness is diminished and itching is reduced by 37%. Pain in very sensitive skin is alleviated by 52% and general impairment in everyday life is reduced by 53%. Overall, the study found a significant improvement in the quality of life by 42% and confirms that the SENSITIVE CARE line offers the most suitable products for sensitive skin.

SENSITIVE CARE
Skincare for Sensitive & Allergy-Prone Skin

OTHER PRODUCTS
For Your Perfect Skincare Routine
SENSITIVE CARE
For Sensitive and Allergy-Prone Skin
Hypersensitive skin – what is it?
Redness, itching, burning, skin feels hot and tight - these symptoms can seriously impair the daily lives of people who suffer from sensitive and allergy-prone skin. Our SENSITIVE CARE skincare line helps to restore sensitive skin to a calm and balanced state.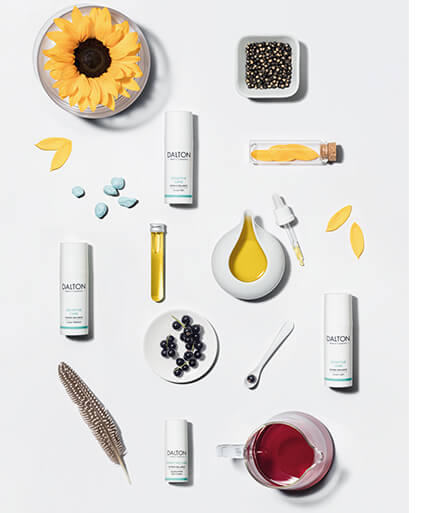 Gentle Skincare Products for Sensitive Skin
Our skincare range for sensitive skin is based on a trio of very gentle, all-natural active ingredients – the Skin Repair Formula consisting of blackcurrant, balloon vine and sunflower extracts:
1. SENSITIVE CARE Cream Light: Has a light texture that absorbs quickly and is especially suitable for very sensitive and allergy-prone combination skin. Its soothing and strengthening properties make it a perfect choice for sensitive skin types.
2. SENSITIVE CARE Creme Medium: Our classic all-rounder for sensitive skin. The supple, fragrance-free cream nourishes the skin and leaves a balanced, strengthened and calm complexion.
3. SENSITIVE CARE Creme Rich: This lipid-replenishing rich face cream for sensitive skin makes dry and cracked skin supple and soft. Can also be applied in a thicker layer and used as a face mask for sensitive skin.
4. SENSITIVE CARE Eye Cream: The delicate, fragrance-free eye cream is free of oils that 'creep' into the eyes. Specially designed for the overly sensitive, thin skin around the eyes. Can also be used to soothe irritation caused by pollen or dust mite allergies.