The Oyster Collection - Balancing Anti-Aging Skincare for Combination Skin
Balancing, mattifying, pore-refining – our OYSTER collection is designed to address the complex needs of combination skin, by balancing out dry and oily skin areas while also reducing the look of pores and fighting the first signs of wrinkles.
THE OYSTER

Excellent Ingredient for Combination Skin
VISIBLY LESS OILY SKIN AND A BALANCED COMPLEXION THANKS TO THE MATTIFYING PROPERTIES OF OYSTERS
Our OYSTER collection for combination skin manages to balance the skin's complex and varied needs: All product formulas in this line are based on our rejuvenating Celumer Marine Extract, whose unique structure allows it to penetrate deep into the skin, where it delivers its anti-aging benefits and supplies the skin with valuable nutrients from oysters and balancing pistacia lentiscus. As a result, these products can restore balance to combination skin, minimize pore size and reduce excess shine and oiliness, while keeping dry skin areas moisturized.
HOW TO CARE FOR COMBINATION SKIN AND REDUCE LARGE PORES
Finding the right skincare products for combination skin types can be a real challenge, because they have to strike a delicate balance between different needs. Combination skin tends to be oily in the T-Zone with large pores on the forehead, nose and chin. Those oily areas are often prone to blemishes and clogged pores. On the other hand, combination skin is often dry and might feel tight on the cheeks as well as in the area around the eyes.
The OYSTER collection manages to balance out these opposing needs. It regulates excess sebum production in the T-zone and hydrates dry areas of the skin at the same time. As a result, enlarged pores are visibly reduced and the skin looks more even and matte. Test results have confirmed this effect. 95% of test persons stated that their skin condition had noticeably improved during the application. Its balancing effect makes our OYSTER line ideal for combination skin and large pores - with an additional anti-aging effect.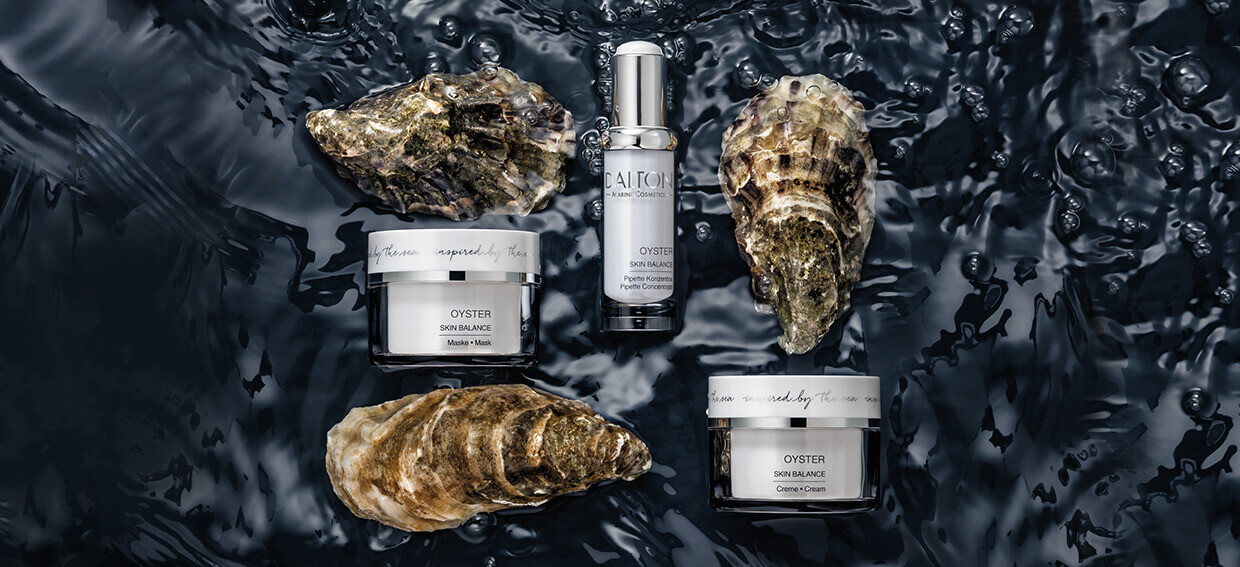 OYSTER
Skincare for Combination Skin
OTHER PRODUCTS
For Your Perfect Skincare Routine