HOW TO GET RID OF PIMPLES AND BLEMISHES - GET BEAUTIFUL CLEAR SKIN
Shiny skin, pesky blackheads and painful red pimples – blemish-prone skin can be incredibly frustrating to deal with. But it need not be! Knowing the right skincare products to use and following some simple guidelines can make all the difference and improve the skin's overall texture and appearance.
There are many factors that can contribute to breakouts: Hormonal changes, genetic predisposition, psychological stress, unhealthy diet and using unsuitable skincare products. Excessive alcohol and smoking can also have severe detrimental effects on the appearance of the skin. Sadly, there is no magic cure for pimples. The key to maintaining clear skin is rather the combination of good skincare and a healthy lifestyle.
To achieve beautiful and clear skin it is important to understand the role of androgens. These male hormones control the production of sebum in our skin. When they over-stimulate the sebaceous glands, they cause an overproduction of sebum and the excess sebum in combination with bacteria and dead skin cells clogs the follicles, which results in pimples and blackheads.
So the question is: How to get rid of pimples and then prevent future breakouts? First of all, proper cleansing is essential to clear the skin of excess sebum, make-up and other impurities. After cleansing, it is highly recommended to apply an alcohol-free tonic to clear the pores, restore the skin's pH and reinforce its natural protective barrier. Finish the routine with your go-to serums and moisturizers. Be sure to follow this routine consistently, in the morning and evening. For pimple emergencies we recommend our SOS Spot Concentrate.
More tips to combat breakouts: Regular use of an AHA Peeling and an anti-inflammatory, clarifying face mask is very effective for treating pimples. Use once or twice a week to see a lasting improvement to your skin.
PIMPLES & BLEMISHES

Causes, Symptoms & Common Questions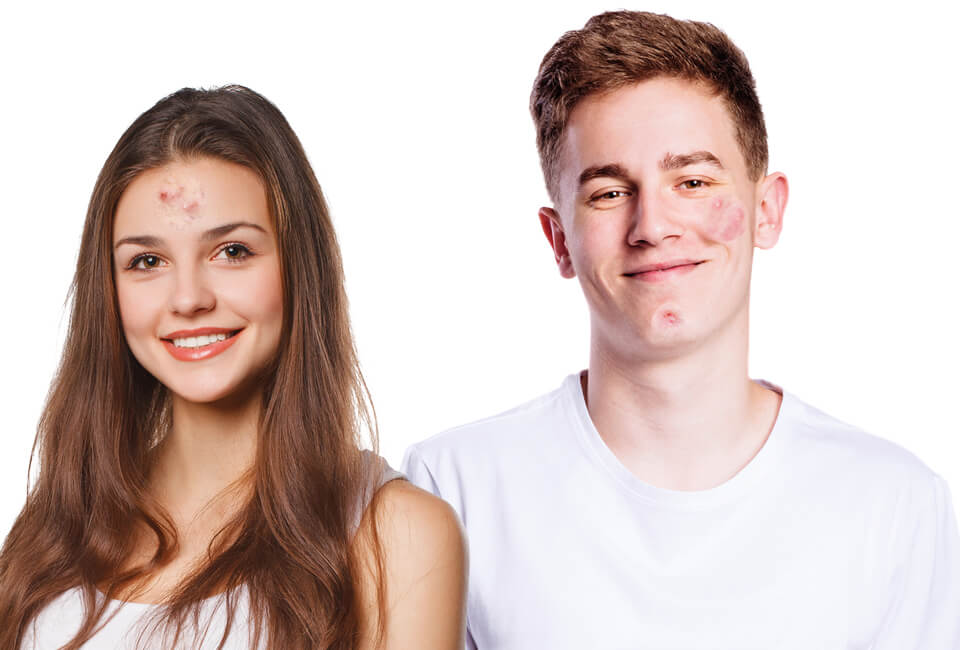 CAUSES OF BLEMISHES

Hormonal changes
Psychological stress
Wrong skincare products
Unhealthy diet
Smoking & alcohol consumption
Negative environmental influences
TIPS TO AVOID BREAKOUTS - DOS & DON'TS
Keep your hands out of your face
Clean your smartphone regularly
Regularly change your pillows and towels
Never forget to remove your make-up
Only use products that fit your skin type
Follow a consistent skincare routine
What is a comedo?
How do pimples form?
Oily skin and pimples – What can I do?
How can dry skin be prone to blemishes?
How can marine peptides help my skin?
THE RIGHT SKINCARE

Products for Dry and Oily Skin
SOLUTION FOR BLEMISHES, PIMPLES AND ACNE-PRONE SKIN
Blemish-prone skin needs a professional skincare routine that helps to relieve acute symptoms, eliminates blemishes and excess shine and prevents inflammation.
The DERMA CONTROL line consists of two individual skincare regimens – for blemish-prone skin that is either dry or oily. The Purifying Cleansing Gel and the Mattifying Gel are specially designed for oily skin with blemishes. If you have dry skin with blemishes, we recommend our gentle Purifying Cleansing Milk and our moisturizing Sebum Regulating Cream. All of these products can be combined with the Purifying Tonic and the SOS Spot Concentrate to get rid of blackheads, reduce pimples instantly and create a visibly clearer complexion.
Find more details about our DERMA CONTROL line, key ingredients and relevant test results here: skincare for blemishes and acne-prone skin.
TIPS & TRICKS
Skincare for Blemish-Prone Skin
OTHER SKIN TYPES
The Right Solution for Every Skin Type
DERMA CONTROL
Product Overview